Fractal Journeys - 05
Julian 1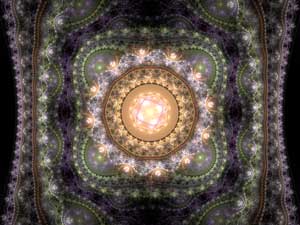 You won't believe what happened on today's journey! Following a hunch that occurred to me as a result of the transformation of Seven Wings, I have discovered that it is possible to 'navigate' somewhat in the fractional dimensions by the willed focusing of attention.
Previously I had journeyed as if floating on a raft in the sea: at the mercy of the currents and the winds - neither of which I could either see or manipulate. Now, however, stumbling upon the discovery that the formation of intent has definite consequences in the fractional worlds has allowed me to begin to take my first tentative steps. I have left my raft...
...and have since encountered the most amazing fractal being I have yet 'seen', and which I am certain is not my old friend Seven Wings. This being is simply remarkable in its complexity and form: it has a base four-fold symmetry, but may not be bound by this, as suggested by its outermost membrane.
I feel that I have come across a completely different... class (?) of fractal being. It carries with it such a suggestion of majesty that I felt humbled in its presence. Sizes in the fractional world do not work like they do in normal space, but I had the distinct impression that this being was somehow both 'larger' and 'smaller' than Seven Wings.
I was surprised at how quickly this new being appeared to me as I stepped of my little raft... it was as if it was almost waiting for me! Who knows yet what discoveries await! I have christened this being Julian, after the famous French mathematician, who would surely have appreciated this most sublime being. I shall explore this new modification of my technique in the days to come.
I have also been able, perhaps as a consequence of my slowly increasing familiarity with the fractional worlds, to increase many-fold the fidelity of the rendered images of the beings there. The higher resolution 'photograph' is much more suitable for printing or examining the fine details of this being's cloak; but beware, the file size is also correspondingly bigger!
Julian 1: 1600x1200, 4000x3000